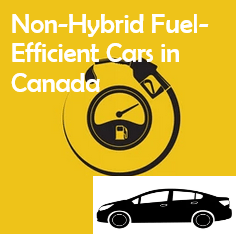 Non-Hybrid Fuel-Efficient Cars in Canada. Most people depend on their vehicles. It greatly aids in improving one's quality of life. Understandably, buying a fuel-efficient car has elevated to the top of many Canadians' priorities, given the country's soaring fuel prices. Most people think of electric or hybrid vehicles when we mention fuel-efficient vehicles. Not everyone, however, prefers to drive an EV or a hybrid. Here, we'll talk about fuel-efficient non-hybrid cars.
For some people, an internal combustion engine still reigns supreme despite the current automotive craze for hybrid and electric vehicles. Electric vehicles are still outnumbered by reasonably priced, fuel-efficient gasoline vehicles. A list of Canada's most fuel-efficient non-hybrid cars is provided below, along with a brief explanation of fuel efficiency.
What does Fuel Efficiency mean?
The quantity of gasoline your car can use to travel a certain distance is referred to as its fuel efficiency. The first and most widely used unit of measurement is liters per 100 kilometers (liters/100km). This is the amount of fuel your car requires to travel 100 kilometers. 'Fuel economy' is a common term used to describe it. Generally speaking, the fuel economy is better the lower the number of liters stated.
Non-Hybrid Fuel-Efficient Cars in Canada
Honda Civic
It's impressive that Honda offers two different engines for the Civic, yet despite significant variations in power and torque, fuel efficiency is quite similar. The estimated city/highway/combined mileage for the 158 horsepower 2.0L four found in LX through Sport models is 7.7/6.0/6.9, while the 180 horsepower 1.5L turbo-four found in the Touring delivers 7.6/6.1/6.9. The Civic is also available as a hatchback with a combined fuel economy rating of 7.1 L/100 km.
Kia Forte
In the lineup of the Korean manufacturer, the Kia Forte lies between the smaller Rio and the bigger K5. It has a 147-horsepower inline-four and is front-wheel drive. Although the thirstier 1.6-liter turbocharged four-cylinder of the GT model comes with a six-speed manual transmission, Kia gives all normally aspirated Fortes a practical CVT. The Forte is neither the greatest nor the most thrilling car in its class, but it has a lot of standard amenities, is reasonably priced, and gets good gas mileage with its base engine.
Kia Rio
The most fuel-efficient non-hybrid car in the Kia portfolio is its compact model, the Kia Rio. The Rio's 1.6-liter, four-cylinder engine produces 120 horsepower, and a CVT is used to increase fuel efficiency. Despite its diminutive size, the Rio is well-equipped. Furthermore, it has wireless Apple CarPlay and Android Auto compatibility. Heated seats are also included.
Toyota Corolla
The Toyota Corolla, the best-selling car in the nation the previous year, is renowned for being economical at the gas pump and well-liked in the parking lot. In line with the majority of the list, the Corolla sports a CVT and a 2.0L four-cylinder engine that this year produces 169 horsepower. With an EPA-estimated 36 combined mpg, this Corolla is less fuel efficient than its hybrid equivalent, which can achieve 52 mpg. The hybrid Corolla may give higher fuel economy, but the gas version is around $2,000 less expensive. If you want to use less gasoline but don't travel long distances frequently, this makes the gas-powered option rather enticing.
Nissan Sentra
The Nissan Sentra demonstrates that less-priced and fuel-efficient vehicles in Canada don't have to seem less desirable than their more expensive rivals. The outstanding fuel efficiency of 9.2 L/100 km in the city, 6.2 L/100 km on the highway, and 7.9 L/100 km combined will save you time at the gas station. It is driven by a CVT and a 2.0-liter inline-four with 149 horsepower. Additionally, the Sentra's modest 12.4-gallon gasoline tank can make fueling up less painful than for larger vehicles with larger tanks when gas prices surge. By allowing the engine to run at a greater rpm during most driving, a CVT aids in improving the fuel efficiency of automobiles.
Mitsubishi Mirage
The smallest new vehicle available in Canada is the Mitsubishi Mirage. Its engine is among the smallest, and its sticker price is among the lowest. Therefore, it isn't surprising that the Mirage offers the best-combined fuel economy of any gas vehicle available this year. Even though the 1.2-liter, three-cylinder engine only has 78 horsepower, it is plenty for the car's 1,320-pound weight. The car's small turning circle makes up for its lack of horsepower. Contrary to expectations, it has additional features.
Hyundai Elantra
The Elantra has a CVT and a two-liter, four-cylinder engine that generates 147 horsepower and 132 lb-ft of torque. A heated front seat and an eight-inch touchscreen with Apple CarPlay and Android Auto are included even in the basic model. Hyundai Elantra has the best highway rating and the second-best combined fuel efficiency of any non-hybrid car in Canada for 2023.
Acura Integra
The 2023 Acura Integra, like previous Integra models, is essentially a flashy Honda Civic. That's okay, though, because the small sedan from Honda is one of the best in its class. The Integra exclusively comes in hatchback body form, whereas the Civic is also offered in sedan and coupe body styles. Stick with the base model and its smaller rolling stock if you want to get the most fuel-efficient version of this entry-level luxury vehicle. The base Integra retains the 200-hp turbocharged four-cylinder from higher-end variants, albeit possibly lacking their sportier features. Unfortunately, the base model of the vehicle does not come with the six-speed manual transmission.
Volkswagen Jetta
The largest car on this list is the Volkswagen Jetta. With heated seats, a heated steering wheel, and LED lights as standard features, it has a trunk that holds almost 400 liters, or 14 cubic feet, in size. The Jetta has an eight-speed automated transmission and a 1.5-liter turbocharged four-cylinder engine that generates 158 horsepower and 184 lb-ft of torque. The most fuel-efficient version of this little sedan is the optional eight-speed automatic, though.
Nissan Versa
Only the Nissan vehicles with the automatic transmission have an EPA combined rating of 35 mpg and are front-wheel drive with a 122-hp inline-four. A larger 7.0-inch touchscreen is now standard on the Versa, which has been reworked to ride, drive, and steer better than before. The Versa offers technology that is surprisingly advanced for its price range. This includes standard pedestrian recognition, automatic highlights, and automated emergency braking. You'll have a superb commuting automobile when you add those to the fuel efficiency.
Conclusion
There are numerous fuel-efficient vehicles out there that fit your lifestyle well. You only need to do research. These are just some of those vehicles. We hope it can be a great help to you. With gas costs in Canada rising, having a fuel-efficient automobile can help you save a lot of money on gas.
If you are looking to purchase a new or used fuel-efficient vehicle and need financing, we can help. Vancouver Auto Loan can get you approved for auto financing regardless of your credit rating. We're networked with the top financial institutions in the country. Thus, getting the best car loan plan suitable to your situation will never be a problem. We can get a hold of vehicles of any year, make, and model. So you can be at ease. Get pre-approved now! For more information, contact us here at 1-855-227-1669. You can also browse our inventory here.